RECIPE FOR GLUTEN-FREE MINI PIZZAS
Gluten-free mini pizzas are the perfect party snack. Delicious and easy to make! In this recipe we use potatoes, cured ham, and wild garlic pesto.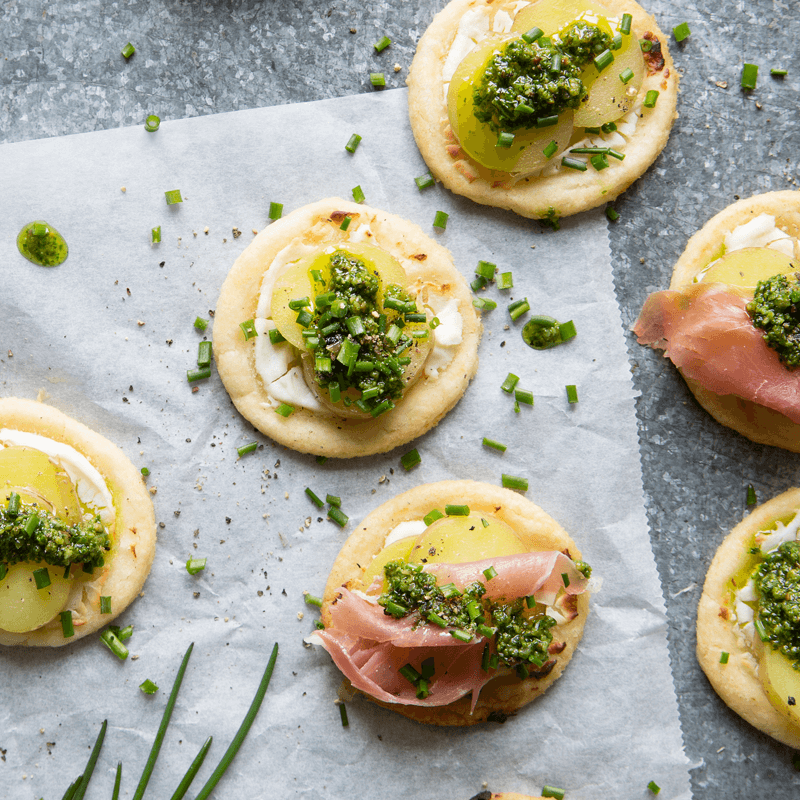 Makes around 35 bite-size pieces
45 minutes
Ingredients
1 packet gluten-free puff pastry, thawed
rice flour or other gluten-free flour for rolling out
100 g spreadable fresh goat's cheese
10-12 small boiled potatoes, sliced
200 g cured ham in small pieces
wild garlic pesto (recipe below)
finely chopped chives to garnish
Wild garlic pesto:
400 ml fresh wild garlic leaves, rinsed and roughly chopped
75 ml sunflower seeds, roasted
100-150 ml mild olive oil
pinch of salt
pinch of freshly milled pepper
HOW TO MAKE IT
Let's start by mixing the pesto. Combine all the ingredients using a food processor to make an almost smooth pesto. If you don't have wild garlic, chives and half a clove of regular garlic will work as well.

Time to make the gluten-free mini pizzas. Preheat the oven to 225°C. Flour a pastry board with a little rice flour and roll out the gluten-free puff pastry. Cut out circles using a glass. Place the circles on a baking sheet. Spread 1 tsp of goat's cheese on each circle.

Bake for 10 to 12 minutes in the middle of the oven until golden brown. Allow to cool and garnish the gluten-free mini pizzas with potato slices, cured ham, wild garlic pesto, and finely chopped chives.