RECIPE FOR GLUTEN-FREE MINI PIES
This is a delicious recipe for gluten-free mini pies stuffed with feta cheese and spinach. A perfect snack on any buffet table. Gluten-free puff pastry makes it incredibly easy to prepare gluten-free mini pies.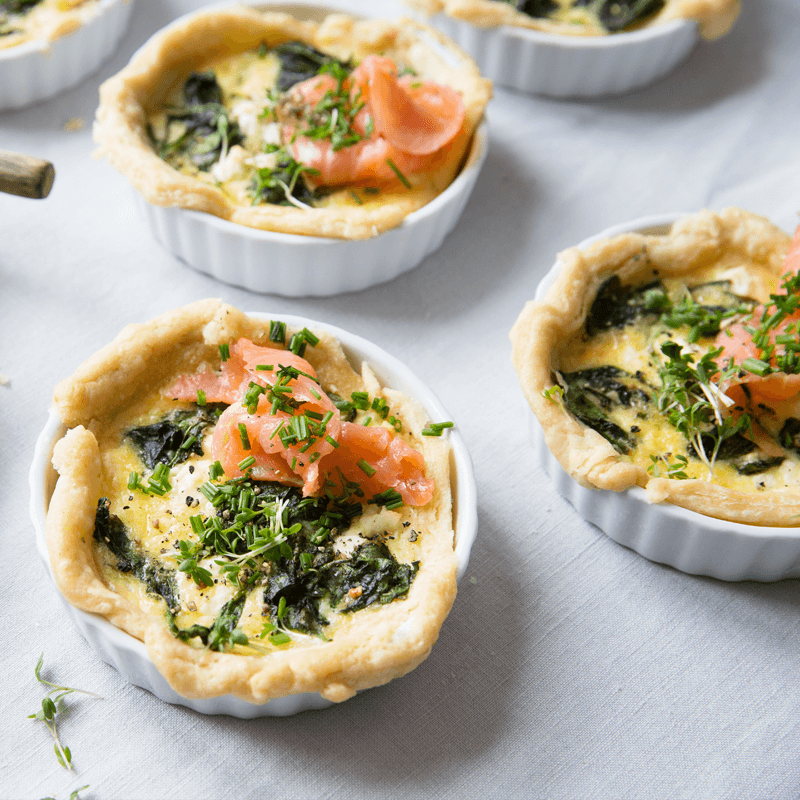 6 small pies, 10-11 cm
60 minutes
Ingredients
1 packet gluten-free puff pastry, thawed
150 g feta cheese
100 g fresh baby spinach
2 eggs
100 ml cream
50 ml milk
¼ tsp salt
a pinch of black pepper
100 g smoked salmon slices
chives and watercress
HOW TO MAKE IT
Preheat the oven to 225°C. Roll out and line six small pie dishes with the gluten-free pastry. Prebake in the middle of the oven for 10 minutes. Meanwhile, fry the spinach in a little olive oil until soft.

Then lower the oven temperature to 175°C. Distribute the crumbled feta cheese and spinach among the pastry cases. Whisk together the eggs, cream/milk, salt, and black pepper. Pour the mixture into the pie dishes and bake for around 25 minutes.

Leave the gluten-free mini pies to cool slightly and then garnish with the salmon, finely chopped chives, and cut watercress.