RECIPE FOR GLUTEN-FREE VEGETARIAN SANDWICH
This recipe for a gluten-free vegetarian sandwich with mushy peas and mint is ideal for lunch, a picnic, or a snack. The recipe has been developed in collaboration with Finnish food blogger Juulia.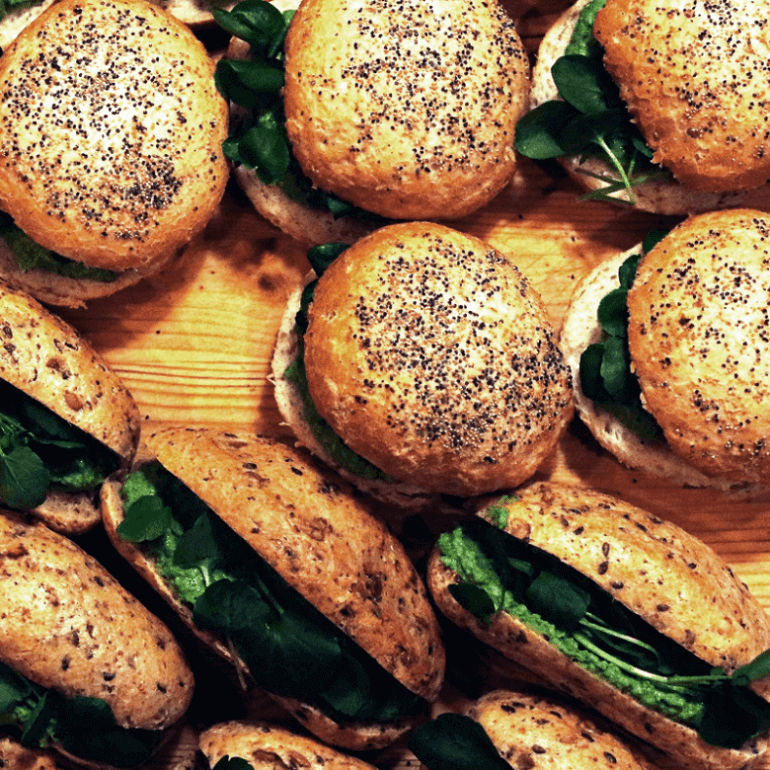 Makes 16
15 minutes
Ingredients
8 Fria Poppy Seed Rolls (2 packets)
8 Fria Wholemeal Mini Baguettes (2 packets)
600 g peas
300 g soft tofu
1 pot chervil
1 pot mint
1 ripe avocado
1 lemon
2 tbsp olive oil
watercress for decoration
salt and black pepper to taste
HOW TO MAKE IT
Pour all ingredients apart from the gluten-free bread into a blender and blend until smooth. If using frozen peas, make sure they are properly thawed before blending. Season with freshly ground black pepper.

Keep the mix in the fridge for a few hours before serving. Thaw the gluten-free bread at room temperature for about 30 minutes before serving.

Halve the gluten-free bread and spread the mushy peas on one half. Top with the watercress and add the other half of the bread. Serve with a cold drink and a tasty salad.
This gluten-free recipe contains