RECIPE FOR GLUTEN-FREE WEDDING CAKE
If a single Fria brownie opens the door to endless creativity, just imagine what you could do with six! Discover our recipe for a gluten-free wedding cake with apricot mousse – a luxurious creation for 25 to 30 people. Congratulations to the happy couple!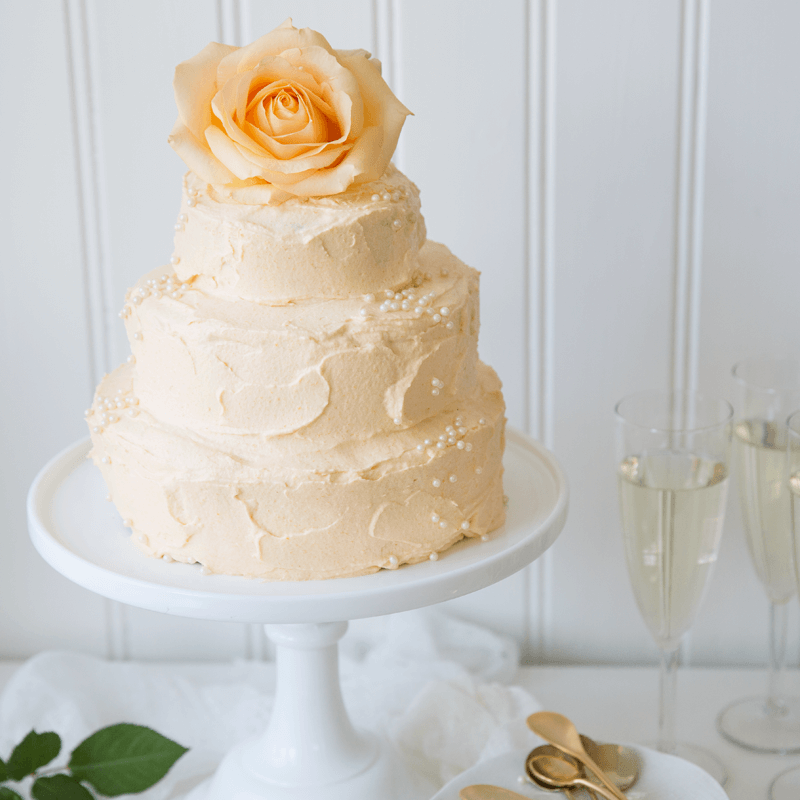 Serves 25 to 30 people
45 minutes
Ingredients
6 Fria brownies
Apricot mousse:
250 g dried apricots
400 ml water
150 ml gelling agent
300 ml whipping cream
HOW TO MAKE IT
Cover the apricots with cold water and refrigerate for at least 6 to 8 hours or overnight. Drain the water. Add 400 ml of fresh water and blend into a completely smooth puree using a blender or food processor.

Boil the puree together with the gelling agent and allow to boil for 2 to 3 minutes. Let the mixture cool completely and then refrigerate.

Whip the cream and mix with the cooled apricot puree. Use a sharp knife and a round template of an appropriate size to trim two of the gluten-free brownies so that they are slightly smaller than their original size. Do the same with the two brownies which will be the highest and smallest layers of the cake.

The gluten-free wedding cake is almost ready. Assemble two original-size brownies with a little apricot mousse in between on a cake stand. Do the same with the two slightly smaller brownies, and then add the smallest ones.

Cover the entire cake with the apricot mousse and garnish with a rose or a pretty wedding decoration.
This gluten-free recipe contains