RECIPE FOR GLUTEN-FREE SPRING VEGETABLE SALAD
This recipe for a gluten-free salad uses the first vegetables of the spring. This fresh spring vegetable salad topped with crispy gluten-free bread croutons works great as a light lunch or as a starter at dinner.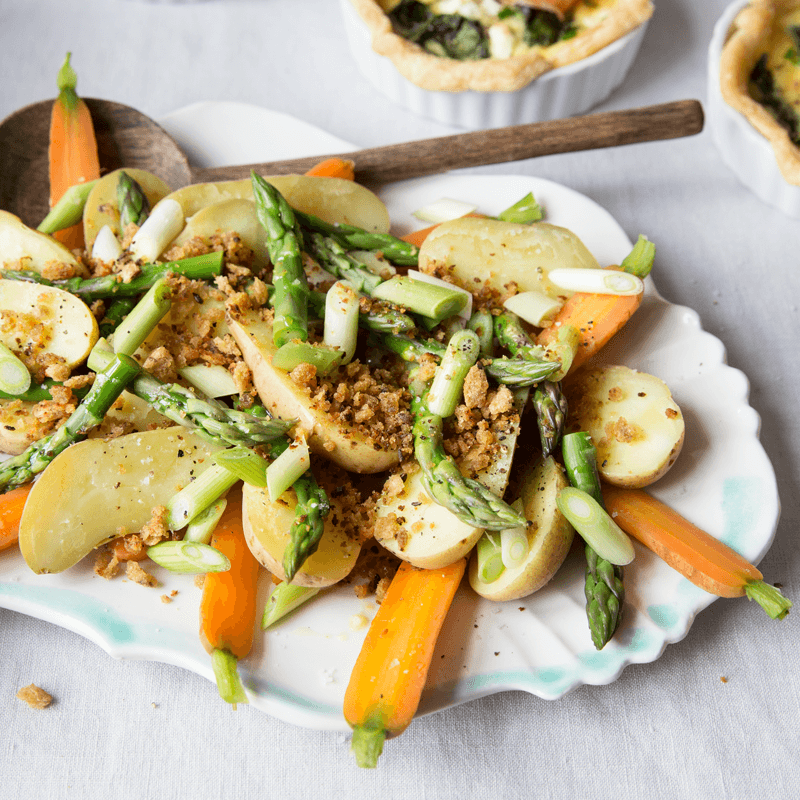 6 portions
45 minutes
Ingredients
4 slices of Fria Dark Loaf, thawed
500 g small whole potatoes, unpeeled
150 g small young carrots
250 g fresh asparagus, spears only
4 spring onions
2 tbsp olive oil
1 tbsp freshly squeezed lemon juice
sea salt and freshly milled black pepper
2-3 tbsp olive oil
HOW TO MAKE IT
Wash and rinse the potatoes, carrots, asparagus, and spring onions. Cut the carrots lengthwise. Cut off the tips of the asparagus (save the stems for a soup). Cut the spring onions into diagonal 1-cm slices.

Boil a big pan of lightly salted water and cook the potatoes for 10 minutes. Add the asparagus and carrots and cook for a further 2 to 3 minutes. Take off the heat, drain the water, and rinse quickly in cold water. Leave the vegetables to drain.

Halve the potatoes and arrange all the vegetables on a platter. Drizzle with olive oil and lemon juice. Season with the sea salt and freshly milled black pepper.

Finely crumble the thawed gluten-free bread slices by hand. Fry the gluten-free croutons in olive oil over a medium heat until they turn golden brown. Garnish the salad with your crispy Fria croutons.
This gluten-free recipe contains