RECIPE FOR GLUTEN-FREE BAT SANDWICHES
Children love sweet sandwiches, but they needn't be unhealthy! Peanut butter is full of healthy proteins and fats, and combined with a healthier homemade raspberry jam and Fria's Oat Loaf you get a filling snack that gives your kids a healthy energy boost.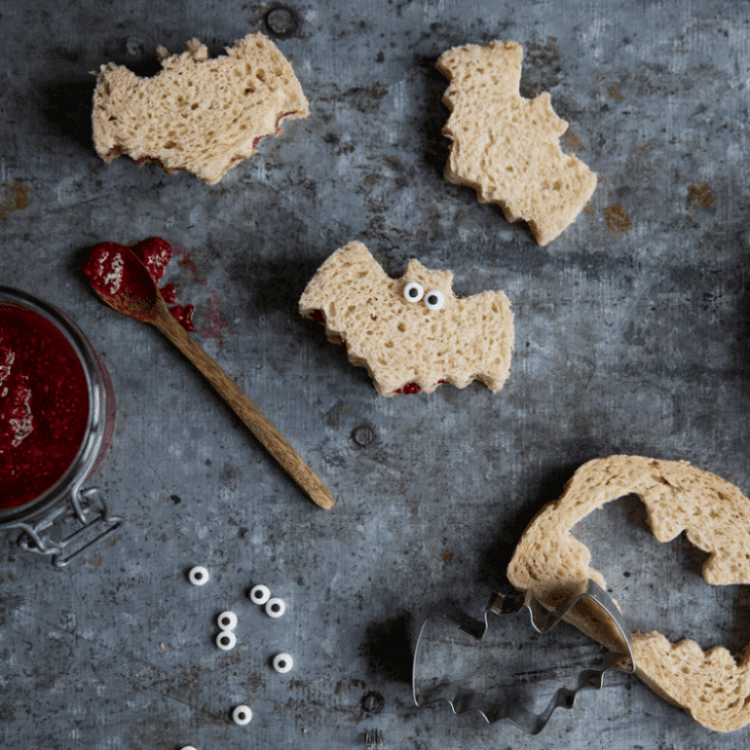 50 minutes
Ingredients
Fria Oat Loaf
Peanut butter
225 g frozen raspberries
2 tbsp water
2 tbsp agave syrup
3 tbsp black chia seeds
HOW TO MAKE IT
Boil the raspberries, water, and agave syrup and allow to simmer for five minutes. Remove the pan from the heat and allow to cool.

Mix in the chia seeds and stir thoroughly. After about 20 to 30 minutes the mixture will have turned into a jelly around the chia seeds, giving the jam the right consistency. Store in a tightly sealed jar in the refrigerator for up to a week.

Thaw the required number of slices of Fria Oat Loaf and cut out bat shapes (or other spooky shapes) using cookie cutters. Spread the peanut butter and raspberry jam on one slice, put two slices together, and decorate with edible candy eyes (available in well-stocked craft stores).
This gluten-free recipe contains