Recipe for gluten-free vegetarian hot dog topping
This recipe for a gluten-free vegetarian topping will take you on a culinary journey to Vietnam. The heat from the chilli, the freshness of the coriander and the creaminess of the Sriracha mayonnaise are the perfect complement to a hot dog cooked on the barbecue. And what's the best thing to put in a Fria gluten-free hot dog bun? A vegetarian hot dog, of course!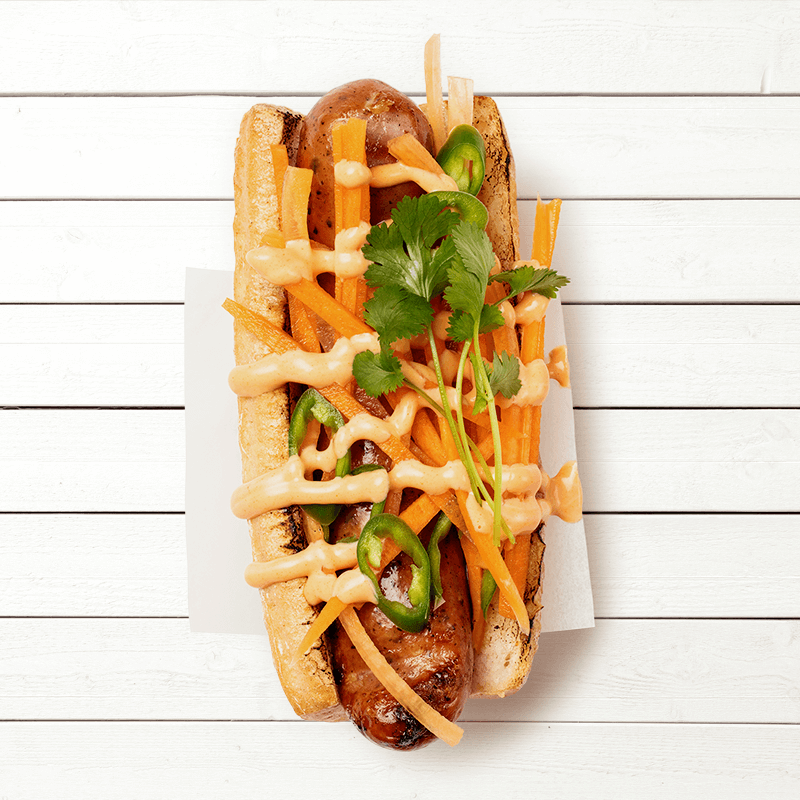 30 minutes
Ingredients
Thinly sliced green chilli
Coriander
Pickled carrot:
150 ml water
50 ml rice vinegar
100 ml granulated sugar
pinch of salt
4 carrots
Sriracha mayonnaise:
1 tbsp Sriracha sauce
200 ml mayonnaise, preferably a good quality one
pinch of salt
HOW TO MAKE IT
Pickled carrot:
Put the water, rice vinegar, sugar and salt in a saucepan and bring to the boil. Allow to cool. Peel the carrots and cut into thin matchsticks. Transfer the carrots to a glass jar. Pour over the cold pickling liquid and leave for at least 30 minutes before serving.

Sriracha mayonnaise:
Combine all the ingredients. If you prefer more heat, add more Sriracha sauce.
This gluten-free recipe contains